Underwater propeller polishing with
DIVER Underwater Contractors
Maintenance is of great importance for your ship in order to keep sailing as long and efficiently as possible. An important aspect in the maintenance of your ship is propeller polishing. The maintenance of this ensures that your ship efficiently converts energy into propulsion. Polishing the propeller is a specialist job and is performed by a certified diver. DIVER Underwater Contractors can provide you with this. With over 25 years of experience in the field, we are internationally known for our excellent service.
The ship's propeller is polished by means of our in-house developed polishing equipment. This equipment is environmentally friendly and approved by the Dutch and Belgian authorities for the polishing of ship propellers. This equipment enables us to filter at least 98% of the material and marine growth in all Dutch and Belgian ports. This is done under strict regulations and in an environmentally friendly and effective manner. We do this for both fixed propellers (FP) and adjustable propeller blades (CPP).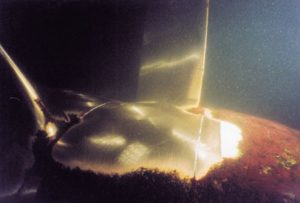 We have the right equipment to polish your ship's propeller on site and to carry out minor blade repairs. The diver will go underwater with the appropriate equipment. Here the diver will thoroughly clean the propeller and get rid of marine growth and blemishes in the blade.
Environmentally conscious choice
Polishing the ship's propeller with DIVER is an environmentally conscious choice. Not only is at least 98% of the waste filtered, the entire process is also environmentally friendly. That is why we are continuously improving and updating our filtration equipment and procedures. This is how we at DIVER ensure that we work in the most efficient and responsible manner and that we continue to meet the increasingly stringent requirements of local authorities. As a result, our customers are not delayed.
In addition, your ship saves on fuel and money. After polishing, the ship's propeller works much more efficiently and there is less resistance on the propeller blades. This also benefits the environment with the polished propeller, thanks to the smooth surfaces of the propeller blades!
Is your ship ready for propeller polishing?
Please contact us to discuss the possibilities and to schedule an appointment. If desired, the work can be carried out in combination with maintenance on your ICCP Anodes so that you have the shortest possible downtime of your ship!
24/7 24 hours a day
7 days a week
+31 115 612 521
DIVER Underwater Contractors (D.U.C.) B.V.
Beneluxweg 4a
4538 AL Terneuzen
Nederland

Tel: + 31 115 612 521 (24 hrs)
Fax: + 31 115 648 956
Email: info@diverbv.com