Underwater inspection for quay walls and sea bed
Would you like to gain insight into the current condition of your harbor quays or civil structures that are underwater? With the quay inspection of DIVER Underwater Contractors B.V. this is done efficiently and without unnecessarily hindering shipping traffic. Thanks to certified divers and advanced techniques, we give you a clear picture of the current situation!
For various companies and local authorities, we provide inspections of quay walls and sea bed (soil protection). The aim here is to map the condition of the quay walls. During this inspection, any defects and damage are identified and identified. Based on this report, the lifespan of the quay can be estimated and any repair work planned.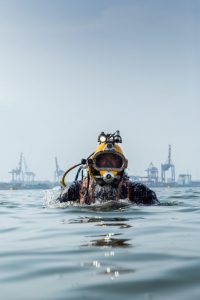 Periodic inspection of quay constructions
The quay inspection is very important to be able to draw up a plan in time and adequately. Here, any damage that affects the construction can be repaired. The aim of this is to be able to guarantee the minimum lifespan set during the construction of the quay.
We also regularly carry out these inspections for our clients in the context of multi-year contracts. If irregularities and / or damage are found during these inspections, we will discuss this in detail with the client to draw up a concrete action plan to be able to carry out all necessary repairs. By regularly carrying out a quay inspection, we ensure together with our clients that the lifespan is safely maximized.
During these inspections, a thickness measurement can optionally be carried out to further map the state of the quay. We process all data based on the photos and findings of the diver in a detailed report. All this in order to provide you as the client with an accurate and clear picture of the condition of the quay and any measures to be taken to safeguard this for the future.
Would you like to know more about the possibilities of a sea bed and quay inspection?
Please contact us to discuss the possibilities or to schedule an appointment!
24/7 24 hours a day
7 days a week
+31 115 612 521
DIVER Underwater Contractors (D.U.C.) B.V.
Beneluxweg 4a
4538 AL Terneuzen
Nederland

Tel: + 31 115 612 521 (24 hrs)
Fax: + 31 115 648 956
Email: info@diverbv.com